Walk by Faith
DVD Release:
December 1, 2008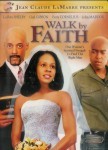 Synopsis
The Story of one woman's spiritual struggle to find the right man. That woman, Pamela, longing for the marriage of her dreams, suddenly leaves her husband-to-be at the altar. Her family, including the cranky Grandma Pearl prods her to get married and produce some children.
After Pamela meets her second suitor, Pastor Brown, she soon discovers he won't allow her to pursue her dreams of singing in jazz clubs. A friend, Jackson, tells her to follow her heart while searching for what's important in life. In the end, Pamela must listen to her heart when getting married with Mr. Right.
Dove Review
Every unmarried woman or girl wants to find "Mr. Right" but are they willing to wait for a sign from God? Putting your faith in the Lord's hands when it comes to your future is always a good thing. But we do not always see the signs when they are right in front of us. This is that kind of story.
Pamela wants to be married but hasn't found the right man. She winds up leaving her man at the altar to become a "runaway" bride. Her family is pushing her, her friends are trying to set her up. But she is just waiting for a sign from God that she has found a good and righteous man. When it comes to love and marriage it is important keep the faith that the Lord will bring you a sign that you and your heart are making the right decision. This movie is entertaining and enlightening to the thought processes of carefully choosing a mate for marriage. We award this movie the Dove "Family- Approved" Seal.
Info
Company:
Lightyear Entertainment