How They Build That: Big Truck
DVD Release:
October 18, 2008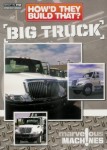 Synopsis
We see them every day – Our favorite big trucks loading, hauling, and delivering the supplies and products we use every day. But where do these big trucks come from? And how are they made? Find the answers on a tour of Navistar's International Truck Assembly plant in Springfield Ohio. As one of the largest builders of BIG transport trucks in the America, we'll tour their factory as they manufacture a large truck from the very beginning all the way down the assembly line. Get close to all the robots and machinery needed to build those big trucks you see every day. View different models of trucks and examine how they are built behind the scenes. Sit in the cab, and learn how they work from a drivers view. Using colorful 3D animated models and High Definition live action, you'll see the steps and process it takes to build such Marvelous Machines.
So hop on in, and come see how they built that… Big Truck!!
Dove Review
The International Truck plant in Springfield, Ohio is the home of The monsters of the road – the BIG trucks, semi's, moving trucks, etc. This DVD shows how these monsters are completely assembled for "blank" sheets of metal to the finished product. Miles of wiring, tons of parts and pieces, lights of all sorts, the huge wheels, everything is shown and discussed in this DVD. Call the kids, sit down and explore the fascinating world of BIG TRUCKS! We gladly award our Dove Seal to "HOWand#700;D THEY BUILD THAT: BIG TRUCKS" and present it with five Doves.