How They Build That: School Bus
DVD Release:
December 29, 2008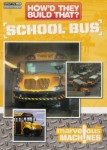 Synopsis
Most of us have ridden in a big yellow school bus at one time or another. Some of you may ride one to school every day. But have you ever wondered where that school bus came from, or how it was made?
Learn all about it in a visit to the amazing IC School Bus Factory where most of the school buses in North America are manufactured. This fascinating plant in Tulsa Oklahoma has an assembly line that is more than a mile long under one roof! See first hand the process of building one of the safest vehicles on the road. Look at each stage of assembly from nuts and bolts, blinking stop lights, safety seats, bright yellow paint to a finished school bus rolling out the door. We know you see school buses every day, but you have never seen them up close, from the inside out like this! So take a seat for a fun filled field trip to the School Bus Factory!
Dove Review
If you like the "How Itand#700;s Made" shows, youand#700;ll like this video too. In approximately forty minutes you can see what it takes to make a school bus that is both functional and safe for our children. It takes a day and half, from raw materials to finished product. In this DVD, you will ride along as they create the vehicles we are accustomed to seeing on our roads almost every day of the year. From miles and miles of wiring, flashing lights, nuts and bolts, welding both by hand and by robot, you will be fascinated by what it takes to create a school bus, maybe the one you ride every day! And, along the way, you learn some "Fun Facts" about school buses. Dove awards the "Family Approved" Seal to this DVD.