How They Build That: Fire Truck
DVD Release:
October 21, 2008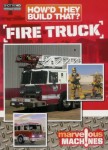 Synopsis
We see them every day – Our favorite fire trucks rushing off to save the day or getting a meticulous wash at the firehouse. But where do these fire trucks come from? And how are they made? Find the answers on a tour of Seagrave Fire Apparatus the oldest continuously operating fire truck manufacturer in the US. Visit their fabulous facility in Clintonville, Wisconsin. We'll tour their factory as they build large fire trucks from the very beginning. See first hand how a handmade custom fire truck is designed and built. Get close to the highly skilled men and women and the machinery they use to build those fire trucks that you see every day. View different styles of trucks, examine what different models do and what purpose they serve. Sit in the driver's seat or the back tillerman's cab, and learn how they work from a driver's view. Using colorful 3D animated models and High Definition live action, you'll see the steps and process it takes to build such Marvelous Machines and see them in action. So hop on in, and come see how they built that…Fire Truck!!
Dove Review
In the "How Itand#700;s Made" manner, this DVD brings kids, and whole families, into the world of the Seagrave Fire Truck plant in the state of Wisconsin. We take a step by step look into the creation of these magnificent machines. From the drawing board, as it were, to seeing the fire trucks roll out of the factory, this is a great learning experience. Some afternoon, join the kids in while they discover how a fire truck is made. We happily award our Dove Seal to this DVD and we award it five Doves!