The Stopping Place
DVD Release:
December 30, 2008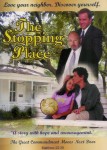 Synopsis
A retired couple move to a small Texas town to start a ministry for displaced residents in a turn-of-the-century home called The Stopping Place. Instead of welcome arms, they find a reluctant community and place needing expensive repairs. What starts out as one man's calling to help others, turns into a disaster, testing his marriage and his faith until he accepts that God sometimes works outside in for His purpose to be known.
Dove Review
Every couple thinks about travel and their future when the age of retirement is upon them. Tom and Annabeth are no different. They make great plans for a trip to Hawaii that they have been saving for. But plans change when Tom gets a calling to do God's work at "The Stopping Place".
Sometimes we don't always understand or see the reasons for our situations but by putting our fate in God's hands He shows us the direction he has for us. This heartwarming story of patience, temptations and faith will encourage everyone in today's difficult times. As you view this DVD there are topics that will truly be up for discussion and that may make a difference in your life. Dove awards the Dove "Family-Approved" Seal to "The Stopping Ground".