Lancelot: Guardian of Time
DVD Release:
December 30, 2008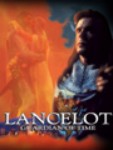 Synopsis
A medieval knight is unexpectedly thrown into present day Los Angeles, where he must defeat a wicked sorceror.
Dove Review
The well known Knight of the Round Table is sent into the future to find the kidnapped boy, Arthur. This is a comical stroy that takes our favorite Knight into the modern day of cars, computers and TV. Lancelot needs some help in this future land to rescue the young Arthur who was taken by an evil wizard to this time.
Can you imagine Sir Lancelot in blue-jeans or riding in a car? Well, if nothing else this movie will make you laugh just to see it. This movie is "Family-Approved".
Info
Company:
Alpine Pictures, Inc