Angel of Abbey Street
DVD Release:
January 1, 2008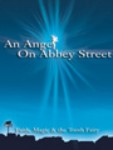 Synopsis
A homeless panhandler helps bring hope to a young girl who has lost her faith in everything, from God to the Tooth Fairy. Family-Oriented Television Feature. (Dick Van Patten; Bruce A. Young).
Dove Review
At first this DVD is a bit confusing as it starts with a family in a car coming to a stop sign. Next, you hear a crash. In the next scene you see two men in a park with other homeless people and they're drinking alcoholic beverages out of a brown bag. While in the park they meet a little girl named Mary Elizabeth, who does not have a positive attitude about anything. Mary does not believe in the tooth fairy or Santa and definitely does not believe in God.
The two men want to help Mary Elizabeth and her mom, Shari. The goal is to get Mary Elizabeth to believe again, plus get her Mom away from a shady character of a boyfriend, Cyril. Briefcase, who is one of the two men, works hard to help this mother and daughter out. When it comes to his attention that they are all in danger, he goes to work for Cyril. Briefcase comes up with a plan to help out his friends. He accepts the mistakes in his life and takes responsibility for them, and asks God to forgive him. With God's forgiveness, his life changes as he receives the help he needs for his friends and also he is reunited with his family. I thought this was a very heartwarming movie that encourages everyone that with faith, and determination, you can change a bad lifestyle for the right one. This movie is awarded the Dove " Family-Approved " Seal.
Info
Company:
Alpine Pictures, Inc