Catch Your Mind: Get Inspired
Theatrical Release:
June 2, 2009
DVD Release:
June 2, 2009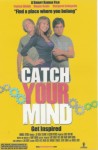 Synopsis
Catch Your Mind is a portrayal of emotional conflict, trust, and betrayal between a teenager boy and his mom. Bruce an excellent student raised in a loving household inadvertently falls into the wrong group of friends as he attempts to fine his identity while struggling with the uncertainties of adolescence. He gradually loses interest in academics and falls into a self-destructive pattern of underage drinking and other related inappropriate activities. Bruce's mother aligns with his girlfriend Monica to get him back on track through involvement with the NASA supported ROBOTICS team at his local high school, and her efforts have surprising results.
Dove Review
It is difficult knowing where to start in reviewing this movie. There are so many stories going on that at times it is a bit confusing. First, let's start with Bruce's story. He's a boy who has always done well in school and knows right from wrong, but he gets mixed up with the wrong friends and has a change of attitude that is unfamiliar to his mother and brother.
Then let's continue with Mom who is basically a single mother trying to raise two boys, one during the awkward teenage years. Her husband has a job that takes a three-hour commute so he does not bother to come home a lot. Then he decides to go to Japan to work for "better money" for a year. This situation is not good because it ends with him sending his wife, who is at wit's end with problems, the divorce papers in the mail.
The fact that this film shows some underage kids sneaking easily into a bar to drink and smoke did not impress me. Although the main character is brought home by police, which never happens these days, they just take him to jail, and there is no bother to make a statement of how they all were caught or the legal penalties which followed. The outcome of the entire situation is that his mother, who grounds him by taking away his job, forbids him to hang out with the friends.
Through all the confusion of which story to follow and what is going to be the outcome, there are some topics for discussion for the family. Topics such as underage drinking, disrespect, trust issues, and the effects on others when someone's attitude changes. Due to some of the content in this film Dove awards our Dove "Family-Approved" Seal for 12+.
Info
Company:
Invincible Pictures
Producer:
Larry Bharat Patel; Mano Haran; Swamy Kandan
Starring:
Patrick Welsh; Megan Beale; Marrgaret Deangells; Justin Leonard; Brendaen Larkin