Kidz of the King Adventures: Just say No to the Yo Whatever Yo
DVD Release:
December 15, 2008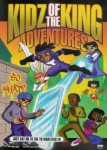 Synopsis
This exciting new animated action/adventure series, featuring ten multicultural angels disguised as teenage super heroes, is designed to teach young people (ages 8-15) how to make healthy decisions and live life "For the Glory of the King!".
Episode: "Just Say "No" to the You-Whatever-Yo" – When Sully, a demonic character, befriends Glenn and Lynette, he attempts to convince the two teenagers that life is a meaningless series of random events. Lynette's cousin argues that we were created with God-given purpose, and should not except Skully's philosophy of "Whatever." Who will the teens believe?
Dove Review
Today it is important to teach our children the importance of how to fight the evil temptations in the world. Especially for those preteen and early teenage years when there are so many peer pressures. This wonderful episode encourages young people that following others just because, is not the best way to go. Also that it is easy sometimes to forget the importance of God in your life and that he is always there when you need him.
These new heroes will help youngsters relate to the problems that they may be having. Let Zeal, Joy, Wisdom, Temperance and Truth along with Mercy, Love, Hope, Faith and Peace come to the rescue as they reveal God's word against evil. This episode of "Kids of the King Adventures" is awarded the Dove "Family-Approved" Seal.
Info
Company:
Ten Talents Prod.