The Christian Survival Film
DVD Release:
December 9, 2008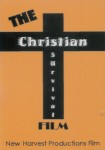 Synopsis
Did you ever wish Christianity had a informational or orientation video? Look no Further! The Christian Survival Film combines wilderness survival with the Christian walk.
Dove Review
This film illustrates nicely what it takes for Christians, both new and old, to survive in today's world. There are several scriptures used and several points made, including watching what we speak with our lips, taking shelter in Christ and so forth. The natural things we need to survive such as water and fire for warmth, are compared to the spiritual, such as the water of the Holy Spirit quenching our thirst, and the fire revealing our works just as fire is used as heat to warm the natural body.
This is a spiritual film, done in a documentary style, which focuses on scripture, and it attempts to encourage people to survive life's problems and to overcome. We gladly award our Dove "Family-Approved" Seal to this DVD.
Info
Company:
New Harvest Prod.
Reviewer:
Edwin L. Carpenter