U.W.O: The Final Documentary
DVD Release:
December 9, 2008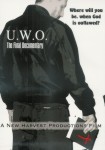 Synopsis
The Rapture is a faded memory and a new terroist group has rose from the ashes to destroy the new United World Order, the Christian. Or is it just U.W.O propaganda? This Tribulation Documentary shows both sides of the coin: The Christian and The U.W.O.
Dove Review
This film presents a view of the coming tribulation period, with Christians having been raptured seven years before. It's done in a documentary style. The Antichrist heads up the U.W.O. which is a world order under his power and he is seen as a god. With Christians on the run, in fear for their lives, we see what happens as they continue to live for Christ despite opposition and the decree that they receive a mark from the world leader which is, in this film, a computer chip which carries a mark with it. This is a pretty well done film despite its low budget, with the story carrying the film. The subject matter will probably be a bit mature for younger viewers but there is nothing which prevents us from awarding our Dove Seal to the DVD for all ages.
Info
Company:
New Harvest Prod.
Reviewer:
Edwin L. Carpenter