Valkyrie
Theatrical Release:
December 26, 2008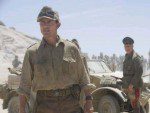 Synopsis
In a country in the grips of evil, in a police state where every move is being watched, in a world where justice and honor have been subverted, a group of men hidden inside the highest reaches of power decide to take action. Tom Cruise stars in the suspense film, "Valkyrie," based on the true story of Colonel Claus von Stauffenberg (Cruise) and the daring and ingenious plot to eliminate one of the most evil tyrants the world has ever known. Director Bryan Singer ("The Usual Suspects," "X-Men," "Superman Returns") re-teams with Academy Award®-winning "Usual Suspects" screenwriter Christopher McQuarrie to bring to life the story of the men who led the operation to assassinate Hitler. The film also stars an acclaimed cast including Kenneth Branagh, Bill Nighy, Tom Wilkinson, Carice van Houten, Thomas Kretschmann, Eddie Izzard, Christian Berkel and Terence Stamp.
Dove Review
This is an intriguing film to be sure, but there sure isn't much suspense, is there? We all know that Hitler died by his own hand so the assassination team failed in their efforts. I don't know a lot about the history of this story but I have read that some dramatic license has been taken with this film.
At any rate, the film is fairly entertaining but it falls short as a family film in the language and violence categories with some blood being shed and shown. It is not as graphic as some we've seen at Dove, but it still is a bit much. We therefore are unable to award this movie our Dove "Family-Approved" Seal.
Info
Writer:
Christopher McQuarrie and Nathan Alexander
Reviewer:
Edwin L. Carpenter