Journal Buddies: A Boys Journal for Discovering and Sharing Excellence
Book Release:
June 1, 2007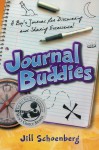 Synopsis
Journal Buddies is a whole new idea of a book. It is a journal that you share! By completing this journal, a boy learns to cultivate a personal belief system that affirms his positive aspects. Additionally, he builds an encouraging support system of buddies. And, Journal Buddies becomes a cherished keepsake that can be reflected upon time and time again.
What is the essence of Journal Buddies? The answer is simple: Sharing, creativity and kindness combined with guided journaling creates an unforgettable experience in building and improving a boy's self-esteem.
Dove Review
This is a wonderful creative journal for boys. As mentioned in the beginning of the book, one does not think of boys when it comes to journals. This journal will be a great adventure in discovery, not only for the boys themselves, but also for those around them.
The boys will be able to investigate their skills, talents and their sharing abilities along with the buddies they choose on this adventure. This journal experience can even be great fun for siblings to help build a better relationship and self-esteem. We award the Dove "Family-Approved" Seal to "Journal Buddies: A Boy's Journal for Discovering and Sharing Excellence".
Info
Company:
BlueSky At Night Publishing