The Captain Mac.A.Roni Cheesy Adventures of – Pilot Episode
DVD Release:
December 15, 2008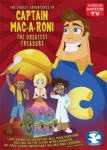 Synopsis
As the crowd gathers for a beautiful day of celebration on Liberty Island, suddenly we find that Pirate Grime has stolen the Greatest Treasure of the world. The island is a mess as people worry and fret that the town will never be the same again. Sandy, Mikey and Eddie, our heroic threesome, call upon the "greatest hero there is'", Captain Mac. A. Roni and his cream-pie throwing sidekick chicken named Cheese. The group sets sail to chase down Pirate Grime and bring the treasure home. Victory appears to be in the hands of Pirate Grime and his sinister assistant Sly the Fox when Captain Mac.A.Roni is tricked and all hope seems lost. Can the "Greatest Treasure" be returned to the people of Liberty or will darkness loom over the land? Only time will tell.
Dove Review
Every little girl imagines being a princess and every little boy imagines being a superhero. Here is a funny story that will appeal to everyone. With the use of slap stick comedy and corny characters this animated adventure will have everyone rolling on the floor with laughter as they learn important values and lessons. Follow Captain Mac.A.Roni, Cheese, Sandy, Mikey and Eddie as they try to get the treasure back while they learn about forgiveness and love.
Dove awards the Dove "Family-Approved" Seal to the Captain Mac.A.Roni pilot episode.