Tulipchan: Lets Be Friends
DVD Release:
January 1, 2009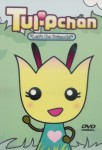 Synopsis
Tulipchan is a show about a little girl with a mission to make as many friends as she can. In the process, she learns that everyone has a unique personality and each must be respected for who they are before true friendship can bloom. This DVD contains two all-new fun and engaging stories that are easy to understand without being overly stimulating. Viewers learn as the characters model positive and negative behaviors and demonstrate the rewards and consequences of their actions.
Dove Review
This story features a colorful and simple animation and a story that displays the good and bad of social behavior. Children will enjoy watching Tulip and her friends, Cherri and Citrus, as they demonstrate the importance of friendship, sharing and kindness. The trio will also reveal their reactions when others around them are rude and disrespectful. As an added attraction children will learn how to draw the lovable friends and learn words from the Japanese language.
We award this DVD the Dove "Family-Approved" Seal.