Juniors Giants 2 – Envy Thou Not
DVD Release:
January 10, 2009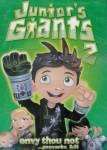 Synopsis
Junior has a new giant to face-a gadget-wielding advocate of materialism. Meanwhile, Celia is running for class president, Mom must cope with her inability as a scrap-booker; Dad keeps failing to install a wireless Internet connection, and Little Man has taken to scaling tall objects. For Junior to triumph, he must continue learning to follow the Spirit, and decide to lay up his treasures in heaven rather than on earth.
Dove Review
Junior is a different but unique animated series that teaches everyone about the giant personal issues in our lives. In this episode Junior and his family have envy issues. Junior wants to improve his robots' abilities and to do that he needs a new micro chip. He learns to fight the Giant who has everything he thinks he needs. But Junior finds out that sometimes when you want something so bad and you get it, it may not always be what you expected. With the help of some scripture from the Bible, Junior learns to overcome this Giant.
This is a creative educational and entertaining show that is for everyone who may have their own giants to conquer. "Junior's Giants: Episode 2 – Envy Thou Not" is awarded the Dove Seal.
Info
Company:
Bridgestone Multimedia Group
Industry Rating:
Not Rated