Notorious
Theatrical Release:
January 16, 2009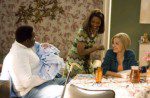 Synopsis
"Notorious" is about the life of rapper Christopher Wallace a.k.a. The Notorious B.I.G. In just a few short years, The Notorious B.I.G. rose from the streets of Brooklyn to become one of the most influential hip hop artists of all time. B.I.G. was a gifted storyteller; his narratives about violent life on the streets were told with a gritty, objective realism that won him enormous respect and credibility. His stories were universal and gave a voice to his generation.
The film stars multiple award winner Angela Bassett as Christopher's mother Voletta Wallace, Derek Luke as Sean Combs, Anthony Mackie as Tupac Shakur and introducing Jamal Woolard as The Notorious B.I.G.
Dove Review
Effective January 1st, 2009, The Dove Foundation Review Team has ceased reviewing all NC-17 rated movies and certain extraordinarily explicit R-rated films. This decision was reached due to the fact that Dove reviewers are parents or grandparents with conservative values. As such, we feel that we can no longer expose these dedicated and caring people to movies that contain distasteful and appalling stories that are focused on graphic horror and violence, and/or gratuitous depictions of explicit sex and nudity.
"Notorious" is considered to be such a film. Our report is therefore limited to the business information (title, rating, distributor, producer, director, actors, etc), synopsis, and the content chart.
Content Description
Please see our content chart above.
Info
Company:
Fox Searchlight Pictures
Writer:
Reggie Rock Bythewood and Cheo Hodari Coker