Defiance
Theatrical Release:
January 16, 2009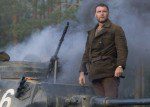 Synopsis
Based on an extraordinary true story, "Defiance" is an epic tale of family, honor, vengeance and salvation in World War II. The year is 1941 and the Jews of Eastern Europe are being massacred by the thousands. Managing to escape certain death, three brothers take refuge in the dense surrounding woods they have known since childhood. There they begin their desperate battle against the Nazis. Daniel Craig, Liev Schreiber and Jamie Bell star as brothers who turn a primitive struggle to survive into something far more consequential – a way to avenge the deaths of their loved ones by saving thousands of others.
Dove Review
A part of history is brought to the forefront in this intense and emotional movie. This film is based on a true story of the Bielski brothers and their determination to survive despite the Nazi army. These four brothers come together after the brutal death of their parents to hide in the forest. Once there, other Jewish people begin to join their group. As the group grows so do the problems. These brothers face many issues, not only the danger of the Nazi army but also the responsibility of the welfare of the people they are trying to protect.
This is a very emotional story that brings to the viewer the feelings that were endured during the war and by the Jewish community. This film is geared towards those who have an interest in true stories, WWII history or simply want to enjoy the great actors that star in this movie. I believe it is a story that should be told. But not all stories of the world are for the entire family. So that being said, this movie is not family approved and cannot receive our Dove Seal. Please consult the content description below for specific details.
Info
Company:
Paramount Vantage
Writer:
Clayton Frohman and Edward Zwick