Kibbles Rockin Clubhouse: Vol. 1 – Expressing Yourself
DVD Release:
January 15, 2009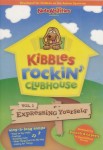 Synopsis
Kibbles Rockin' Clubhouse is a series of DVDs that helps teach children with ASD social techniques and self-care through music, games and stories. Featuring Kibbles, a lovable dog puppet, his friends Handy Sam and Angela, and a cast of engaging, adorable children, the series teaches basic life skills through true-to-life examples and situations, interactive exercises and original songs even the youngest viewers can sing along to. Fostering a child's independence and catering to their strengths, Kibbles Rockin' Clubhouse is an excellent tool to help them develop into confident individuals.
Join the clubhouse gang in "Volume 1: Expressing Yourself" as they learn how to say hello and goodbye, reinforcing the importance of making eye contact and a physical connection (a wave, a handshake, a high-five); follow a set schedule and adapt to the various activities; make masks representing different emotions and learn how to recognize what others are feeling by reading body language and vocal tone; learn how to use your words to let people know how you feel or what you want; and learn how to accept that things don't always go your way so you never chance missing out on anything fun!
Along with instructional repetition and interactive exercises and backed with positive reinforcement, engaging support and fun music and songs, Kibbles Rockin' Clubhouse is waiting to share its knowledge and good times with children of varying abilities.
Dove Review
This is an educational tool designed to help children with autism. Volume One will help children acknowledge the different ways others express themselves-whether it is though facial expressions, the tone of someone's voice or body language. Kibbles, Handy Sam, Angela and the children use toe tapping songs to help reinforce these important lessons.
Sometimes even small children have a hard time telling what their friends are feeling.This would be a great show for any young child, with or without autism, to teach them how to determine the mood of others around them. This volume of Kibbles Rockin' Clubhouse is awarded the Dove "Family-Approved" Seal.
Info
Company:
Noteabilities, Inc.
Industry Rating:
Not Rated