Coraline
Theatrical Release:
February 6, 2009
DVD Release:
July 21, 2009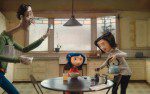 Synopsis
Based on Neil Gaiman's international best-selling book, "Coraline" is the story of a young girl (voiced by Dakota Fanning) who unlocks a mysterious door in her new home, and enters into an adventure in a parallel reality. On the surface, this other world eerily mimics her own life – though much more fantastical. In it, Coraline encounters such off-kilter inhabitants as the morbidly funny Miss Forcible and Miss Spink (French and Ms. Saunders, respectively), and a counterfeit mother (Hatcher) – who attempts to keep her. Ultimately, Coraline must count on her resourcefulness, determination, and bravery to get back home.
Dove Review
"Coraline" takes the viewer on a creepy, imaginative and visually stunning journey. This movie is directed by Henry Selick, the director of "The Nightmare before Christmas" so it is definitely not a Pollyanna movie. It has some images of creepy beings reaching out to grab various characters and instead of a stuffed deer head we see stuffed dog heads adorning one wall in a home. The story is akin to the tale of "Alice in Wonderland". In this creepy version, young Coraline finds herself in a parallel world where her house and father and mother all exist but are strikingly different. Her "other" mother in this parallel world wants her to come live with her, but Coraline begins to discover some hidden things which gives her a reason to refrain from that possible course.
Some of the images might be too frightening for young children. There is a nice scene included in which the family prays over their meal. At any rate, due to the content listed below, we award our Dove "Family-Approved" Seal to this film for ages twelve and above. There is no content listing which crosses our level of acceptability, but please look at the content listing carefully as some families may choose to pass on seeing the movie. Those who choose to see it will behold a lot of eye candy with stunning visuals.
Info
Writer:
Henry Selick and Neil Gaiman
Reviewer:
Edwin L. Carpenter