Slumdog Millionaire
Theatrical Release:
January 23, 2009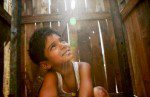 Synopsis
The film is the story of Jamal Malik, an 18 year-old orphan from the slums of Mumbai, who is about to experience the biggest day of his life. With the whole nation watching, he is just one question away from winning a staggering 20 million rupees on India's "Who Wants To Be A Millionaire?"
But when the show breaks for the night, police arrest him on suspicion of cheating; how could a street kid know so much? Desperate to prove his innocence, Jamal tells the story of his life in the slum where he and his brother grew up, of their adventures together on the road, of vicious encounters with local gangs, and of Latika, the girl he loved and lost. Each chapter of his story reveals the key to the answer to one of the game show's questions.
Dove Review
This film does a good job in showing what can happen when two brothers each choose different paths. Young Salim becomes involved with crime and violence and it becomes a way of life for him. Younger brother Jamal seeks to find a pretty young girl named Latika who was separated from his brother and himself when some slimy characters held on to her to introduce her to the world of dancing and prostitution. Jamal cannot forget her and refuses to give up the hope of finding her. Both brothers endured horrible childhoods, living in poverty and watching their mother killed. Violence surrounded them every day. Yet the paths they take lead to separate destinies.
For Jamal, he winds up on the TV show "Who Wants to be a Millionaire?" which is India's version of the program. He is beaten and questioned about how he has done so well on the show. He soon has one shot, and one shot alone, to win the money and to be reunited with the young woman he could never forget. This is a film which has some horrible images in it–images of a boy covered with human waste, the violence of people randomly murdered, and the absolute poverty which overwhelms the dwellers in India where the story takes place. Due to strong language, and other areas of content as listed below, we are unable to award this film our Dove "Family-Approved" Seal.
Info
Company:
Fox Searchlight Pictures
Writer:
Simon Beaufoy and Vikas Swarup
Director:
Danny Boyle and Loveleen Tandan
Reviewer:
Edwin L. Carpenter