House
Theatrical Release:
November 7, 2008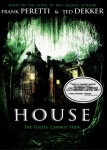 Synopsis
In the year since their young daughter died in a tragic accident, Jack and Stephanie have build walls around their hearts that the other can't possibly penetrate. But their inner darkness is child's play compared to the evil that lurks in the walls of the House.
Imprisoned with another troubled couple in a house of true horrors, Jack and Stephanie are forced to play a one-night game f life and death with a crazed murderer … and each other. When they come face-to-face with evil, they discover it is instantly recognizable.
Based on the best-selling novel by Ted Dekker and Frank Peretti, HOUSE is a riveting thriller that puts a hauntingly familiar face on evil. Could it be the only way out … is in?
Dove Review
"House" is a thriller that is slightly different than most. There is no blood in the entire film except on a woman's nose at the very end of the pic. Unfortunately, as with the typical horror film, 'Jump" scenes are frequent.
I must say that a modern suspenseful horror film sans brutally graphic violence, extremely foul language or excessive nudity is rare. However, this being a "Christian" thriller, it should contain biblical principles throughout which we found to be lacking and even regretfully skewed.
Yes, light overcomes darkness, but serious questions remain…what is the payoff for the redeemed? Is it resurrection to an afterlife or some form of purgatory? And, were they redeemed by their own merits, due to some magical power of an "angel," or by the grace of God? With a shaky "biblical doctrine" that borders on occultism, this film falls short of our "Family-Approved" Seal.
Although this film did not recieve our seal, we felt it important to include a link to a bible study guide for the film: http://www.housemovieguide.com/downloads/bibleStudy_color.pdf
Info
Writer:
Ted Dekker (novel); Rob Green (Screenplay)
Producer:
Joe Goodman; Ralph Winer