Messianic Jews: Why Should I Care
DVD Release:
October 1, 2009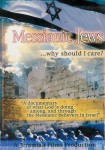 Synopsis
An in-depth look into the Messianic Revival taking place in Israel regarding Salvation in the Messiah Yeshua Ha Maschiach Jesus Christ, the importance to Jewish and Gentile believers, and the testimony as to what this means to Israelis. Messianic Media and Broadcasting is honored to present "Messianic Jews: Why Should I Care?" for your review. This new sixty-four minute documentary was filmed almost exclusively in Israel and captures the movement of the Holy Spirit among Jewish believers in the Holy Land. When we talk about Jewish people worshiping Yeshua as The Messiah, this is nothing less than the gospel of peace.
Dove Review
This is an in-depth look at Messianic Jews, those who believe in Christ as the messiah. The DVD includes beautiful scenes of the Holy Land and features personal testimonies from several people. It is spearheaded by Dr. David Hocking of Hope For Today Ministries.
Included in the various topics are the history of Messianic Jews, how they came to their faith, and prophecy. A dance ministry team also does some interpretive dancing. This is an educational tool that many will enjoy and could be used as a teaching tool in church. We gladly award the DVD our Dove "Family-Approved" Seal.
Info
Industry Rating:
Not Rated
Reviewer:
Edwin Carpenter