Tommy and The Cool Mule
DVD Release:
May 26, 2009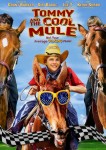 Synopsis
Tommy Braxton's father goes to war and never returns, forcing Tommy to become the man of the house and support his mom and sister. Tommy makes a friend and finds a way to save his family's farm when he meets a new friend, Jackie A. – a talking mule. Against all odds, Tommy and Jackie A. triumph over the older bullies and their horses at the county stock show in a spectacular show of resolve and determination that caps off a winning family adventure.
Dove Review
Sometimes we all need a little help to believe in ourselves. This comical movie about a young boy and his talking mule will undoubtedly make you laugh. It brought back memories of another talking mule in the movies I saw when I was a kid. Jackie A. just wants to help Tommy with some of his problems, especially dealing with the bullies from school, and Tommy just wants to help his family. Together the two unconventional pair show everyone that anything is possible.
This is a cute and comical movie for the entire family. Dove awards this movie our Dove "Family-Approved" Seal.
Info
Starring:
Grant Barker
,
Siri Baruc
,
Kevin Sorbo
,
Matthew Tompkins
,
Darrian McClanahan
,
Michael Lambert
,
Zach Short
,
Celeste Genco
,
Dylan Alford
,
Jeff Griffin
,
Marina Sbrochi
,
Jordan Reynolds
,
Brennan Barker
,
Carson Nitschke
, Voice by: Ice T