The Wish (Illustrated)
Book Release:
March 20, 2009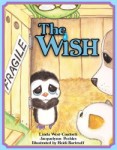 Synopsis
The Wish is a heartwarming, inspiring , adventure story that deals allegorically with the real plight of America's Medically Fragile Foster Care preemie infants and children. Told in fun rhyming verse, this story follows four precious, adorable, orphaned, Special Needs, baby animal friends ,who meet and join together along a mutual path and journey to seek homes where they will find the love and special care they need to heal. A touching, unforgettable tale, colorfully and sweetly illustrated, 'The Wish' imparts an important moral of hope, compassion, and unconditional love.
Dove Review
It is important to teach our children about caring for others who don't always have a loving home. This cute and colorful, illustrated storybook will help children to understand others who may be different or are looking for love. Take an amazing trip with four little friends who are each amazingly different. Yet they all wish to have a home, be loved and fed. This is a wonderful tale of friendship, hope and caring. The Dove Foundation awards our Dove "Family-Approved" Seal to this children's book.