My Buddy Butch: Confessions of a New Dog Dad (Book)
Book Release:
September 5, 2008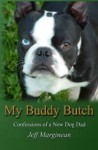 Synopsis
My Buddy Butch is a humorous, touching true story of how a little rambunctious Boston terrier gives Jeff a new perspective on single parenthood, unconditional love, and learning to slow down in this hectic world we live in today. After Jeff's mom passed away the family decided to get dad a little female Boston terrier puppy to keep him company. This was just what the doctor ordered and when "Buttons" had her first litter of pups, Jeff was not far behind from his own furry bundle of joy! From eating the carpet to taking over an entire king sized bed, Butch went to great lengths to turn Jeff into a "New Dog Dad!" The book illustrates how these little dogs eased the pain of the loss of a wife and mother and brought a son and his father closer together giving them something in common to discuss.
Dove Review
Every dog owner and/or future pet owner should read this amazing book. For those of us who are dog owners and have raised them from pups, we can relate to this book from cover to cover. Those of you who may be thinking of getting a dog will learn some of the things you may expect from that new cute cuddly little animal or even some tips in training. But no matter who you are, reading this book will bring laughs and enjoyment, pet owner or not. Dove proudly awards this book our Dove "Family-Approved" Seal.
Info
Company:
Jemar Entertainment