Confessions of a Shopaholic
Theatrical Release:
February 13, 2009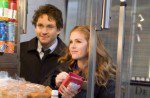 Synopsis
Rebecca Bloomwood is a sweet and charming New York City girl who has a tiny, little problem that is rapidly turning into a big problem: she's hopelessly addicted to shopping and drowning in a sea of debt. While Rebecca has dreams of working for a top fashion magazine, she can't quite get her foot in the door-that is, until she snags a job as an advice columnist for a new financial magazine published by the same company. Overnight, her column becomes hugely popular, turning her into an overnight celebrity. But when her compulsive shopping and growing debt issues threaten to destroy her love life and derail her career, she struggles to keep it all from spiraling out of control.. and is ultimately forced to reevaluate what's really important in life.
Isla Fisher ("Wedding Crashers") stars in the film from producer Jerry Bruckheimer and director P.J. Hogan ("My Best Friend's Wedding"), based on the best-selling series of books by British author Sophie Kinsella.
Dove Review
This movie makes some points about how easy it is to get into credit card debt, and how shopping can be an addiction as much as drinking or gambling can be. Not that this is not a comedy. Isla Fisher plays Rebecca Bloomwood and she does have very good comic timing. One scene features her boss, Luke Brandon (Hugh Dancy), presenting her with a fan as a gift to dance with at a party they attend. Rebecca's inexperience at dancing with a fan shows when she makes all kinds of appropriate and inappropriate moves with the fan.
There are some nice points which the film makes in addition to the need to spend carefully. Rebecca has to eat some humble pie as she hurts some of the closest people in her life. However, she is a changed young woman by film's end. Unfortunately, there is a scene in the film which features her friend sleeping with her boyfriend before their wedding day, and therefore we are unable to award our Dove Seal to the movie. We are always disappointed when a film narrowly misses receiving the Dove "Family-Approved" Seal and this is the case here.
Info
Writer:
Tracey Jackson and Tim Firth
Reviewer:
Edwin L. Carpenter