Under the Sea – 3D
Theatrical Release:
February 13, 2009
DVD Release:
November 16, 2010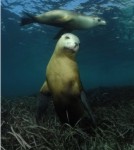 Synopsis
This new IMAX adventure transports moviegoers to some of the most exotic and isolated undersea locations on Earth, including Southern Australia, New Guinea and others in the Indo-Pacific region, allowing them to experience face-to-face encounters with some of the most mysterious and stunning creatures of the sea. It offers a uniquely inspirational and entertaining way to explore the beauty and natural wonder of the oceans, as well as the impact of global climate change. In IMAX 3D, the images will literally leap off the screen and float around the theater, putting the audience in the movie.
Dove Review
Jim Carrey uses his softest narrating personality to tell the tale of the ocean's reef systems and the creatures that make these underwater paradises their homes. I found the cinematography to be breathtaking and some of the creatures documented to be astounding in their complexities.
As with all other IMAX films, the story moves ahead at a well timed pace while giving school children something new to consider. Most environmental films today harp over and over on the need to change our evil polluting ways but this film takes a kinder and gentler path. Yes, the effects of man have changed the undersea landscape but the filmmakers do not try to enlist our children into an army of activists – as is all too frequent in other documentaries.
Dove is pleased to award this film our "Family-Approved" Seal for all ages.