Tyler Perrys Madea Goes to Jail
Theatrical Release:
February 20, 2009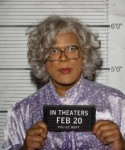 Synopsis
At long last, Madea returns to the big screen in "Tyler Perry's Madea Goes to Jail." This time America's favorite irreverent, pistol-packin' grandmomma is raising hell behind bars and lobbying for her freedom…Hallelujer!
After a high-speed freeway chase puts Madea (Tyler Perry) in front of the judge, her reprieve is short-lived as anger management issues get the best of her and land her in jail. A gleeful Joe (Tyler Perry) couldn't be happier at Madea's misfortune. But Madea's eccentric family members the Browns (David and Tamala Mann) rally behind her, lending their special "country" brand of support.
Meanwhile, Assistant District Attorney Joshua Hardaway (Derek Luke) is on the fast track to career success. But Hardaway lands a case too personal to handle – defending young prostitute and former drug addict Candace Washington (Keisha Knight Pulliam) – and asks his fiancée and fellow ADA Linda Holmes (Ion Overman) to fill in on his behalf. When Candace ends up in jail, Madea befriends the young woman, protecting her in a "motherly" way as only Madea can.
Dove Review
Tyler Perry does a wonderful job in his portrayal of Medea and once again the lovable woman is in an hilarious adventure. She has definite anger issues that causes her to wind up in jail. Even in jail, you can count on Medea voicing her opinion and no one gets away with bullying her.
This is a story of friendship, helping others and forgiveness. The connection with the Assistant District Attorney Joshua and his long lost friend Candice is a slightly more serious story. Joshua wants to help Candice and he tries in many ways. His fiancé on the other hand is not real understanding and helps to send Candice to jail at the same time as Madea. There is an important statement made by Madea that helps Candice. Madea tells the woman that it is time to stop blaming others and to stop acting like a victim, and that it is time to forgive herself and go on with her life. This is a great lesson. Although this movie has its comical side and some lessons along the way, it has some content that takes it outside of Dove's guidelines, preventing us from being able to award our seal to this film.