River-Lations: A Thousand Islands Inspirational Music Video
DVD Release:
March 10, 2009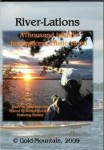 Synopsis
This Spirit anointed DVD consists of beautiful songs sung by talented Patty Mondore and it includes nature scenes, deer, running brooks, a funny chipmunk, and scripture references. The viewer will feel a serenity as he/she views and listens to this nicely produced quality DVD.
Dove Review
Having been exposed to several DVDs of this genre, meaning a DVD which contains nature scenes and songs, I can truthfully say this is by far the best one I have ever seen. It is very well done. First of all the vocalist, Patty Mondore, can absolutely sing. She has a strong and yet sweet voice which mixes excellently with the scenes on the screen. She is a terrific singer/songwriter. The song "I Was There" speaks of a divine watchful eye when troubles are all around and may be the best song in the DVD, although I enjoyed every single song.
The editing of the scenes and the montages are right on. The fade outs at the end of each song are perfectly timed. My wife and I both felt a serene peace after viewing this DVD, which includes scripture references both in the songs and on-screen. The scenes range from sunsets to flowers to rivers and boats and even a castle! The chipmunk interludes are well done and humorous. We highly recommend this DVD for all ages. Anyone who loves great vocals, beautiful scenery and animals, or simply enjoys viewing God's creation, will enjoy this DVD. We gladly award this DVD our Dove "Family-Approved" Seal and we recommend it for all ages. We award it five Doves, our highest ratings level.
Info
Company:
Gold-Mountain.Com
Producer:
Robert J. Mondore and Patty Mondore
Reviewer:
Edwin L. Carpenter