Unlocking the Secret
DVD Release:
October 1, 2008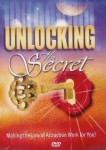 Synopsis
"The Secret" is out—and it's a phenomenon that's sweeping the world. Some claim the Law of Attraction is the key that unlocks the greatest treasure chest of all—the power of the universe. And by using this amazing tool, you can fulfill all your dreams and desires. Are these claims just wishful thinking? Or could there be some truth behind them?
Unlocking The Secret brings you the newest and most innovative techniques for realizing your dreams using one of the most powerful tools ever discovered. And it will guide you to understand the Law of Attraction on a much deeper level. Find out not only how, but why the universe wants to work for you.
Join us as we go on a journey of discovery with a team of three of the most inquisitive people you'll ever meet. Pete, Hope, and Eddie are undergraduate students working on an article for their college newspaper. Their assignment is to find out everything there is to know about "The Secret." But their investigation takes them to a place they hadn't expected. Is the most important part of the secret yet to be revealed?
In this compelling investigation, you'll hear directly from some of the world's leading experts about what makes the secret Law of Attraction work. But more importantly, we'll take our investigation into an area where no one else has gone. We'll find out the reasons why the law of attraction sometimes doesn't work. And most importantly, we'll reveal how you can avoid these mistakes and use the secret to its fullest.
Dove Review
Grizzly Adams Productions has created a wonderful documentary that will create a topic for discussion when it comes to "The Law of Attraction." Follow three college students as they try to investigate the truth about this phenomenon. Listen to expert opinions on the subject. This interesting topic will get the attention of friends and aquintances alike to talk about.
Dove awards this documentary our Dove "Family-Approved" Seal but I must warn you that younger children may not understand it and get bored.
Info
Company:
Grizzly Adams Prod., Inc.