Jimmy Hansens Heaven
DVD Release:
June 1, 2009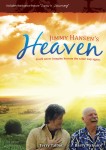 Synopsis
Jimmy Hansen is just a regular guy living another normal day on planet earth, when all of a sudden his life is changed forever. Follow Jimmy on his life after death journey into a world that you will never forget. Doctors back on earth are franticly trying to bring Jimmy back to life and yet…does he really want to come back? Experience this wonderful, emotional journey of failure, forgiveness and joy as you ponder inside ..is this how it will be for faith-filled believers when it's time to cross over into eternal life?
Dove Review
This story is, as the title suggests, about Heaven. A woman, who is experiencing much emotional pain, partly as a result of marital conflicts, commits suicide. Some time later her husband joins her in Heaven. She tells him she had lost her mind which is why she took her own life. This is obviously controversial, but Heaven is seen as a place to pursue and the woman is portrayed as indeed having lost her mind. Jesus greets her husband in Heaven in this film. We do not believe the filmmakers mean to suggest suicide as a way out of problems, but they were focusing on the fact that there is no pain in Heaven.
Obviously, due to the mature theme, we recommend this film for ages twelve plus and we recommend that viewers check out the content listing in helping in the decision to view this film. We award our Dove "Family-Approved" Seal to this DVD as it encourages giving spiritual matters much thought.
Info
Company:
Bridgestone Multimedia Group
Starring:
Terry Talbot; Barry McGuire; Sandra Simmons; John Ralff; Ted Kraft; Linda Eaton; Earl Edwards; Georgia Hasslacher; Mark Roberts; Eric Ceballo,
Ace the Dog
Reviewer:
Edwin L. Carpenter