Birdie and Bogey
DVD Release:
March 1, 2009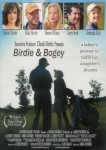 Synopsis
Sometimes the strength to rise above comes from the unlikeliest of places. And when that place is the world of Birdie O'Connor's dreams, nothing is impossible.
Norris Family Films proudly presents a story…about a little girl and her father…and the unbreakable bond they share as they pursue a daughter's wish for her father to have a second chance at a forgotten dream: To once again play on the PGA Tour. When Danny takes Birdie along for the ride as his caddy, the golfing world takes notice. And when Danny starts to win with the help of his twelve-year-old daughter's coaching, everyone takes notice. Danny's shot at the PGA is within reach. But when Birdie's life is threatened with a deadly disease, Danny must find a way to carry on alone so that he may fulfill his daughter's wish…which is to know in his heart what his daughter knows in hers: That she loves him, believes in him, and that he is the best. Birdie and Bogey is a story of determination, friendship, strength, hope and the bond that is eternal.
Dove Review
We all know that fathers have many dreams regarding their daughters but sometimes daughters have hopes and dreams for their fathers. This is a story about a young girl, nicknamed Birdie by her father, who has one prayer for her father which is to see in himself what he can do once again as a pro golfer.
This is a very heartwarming, while at times heart wrenching, story of true faith and challenges one father and daughter endure. Everyone including those who do not golf will love this wonderful movie. Although this is a very endearing movie, due to the emotional scenes regarding the young girl's illness, we recommend it for ages 12 and over – and bring some tissues.