The Bible Explorer Series (3 disc box set)
DVD Release:
October 22, 2008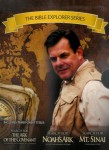 Synopsis
"Search For the Ark of the Covenant:The Mystery of the Ark of the Covenant" – The fate of the lost Ark of the Covenant is perhaps the greatest historical mystery of all times. In this DVD, Bob Cornuke searches around the globe in hopes of discovering this important relic from the Bible. With footage from Israel, Egypt, Ethiopia and Italy, this DVD reveals startling new information as to the exact location of the ark. Embarking on an adventure that takes viewers to the Holy Land, sacred islands, ancient and mysterious stone cities, and to a devout group of monks who claim they now possess the lost ark. The DVD also includes photographic evidence never before seen by the world.
"Search for Noah's Ark: The Lost Mountains of Noah" – Ever since embarking on his first expedition to Mt. Ararat, Bob Cornuke has had a passion shared by only a select group of explorers. In this DVD follow Cornuke as he brings this adventure to life and tries to be the one who makes the greatest archaeological discovery in human history – finding remains of Noah's Ark. Based on the testimony of the Bible, personal investigation, examination of evidence and other factors, this DVD captures his relentless search for the ark to its most probable resting place and includes threatening misadventures and narrow escapes from political unrest that are sure to leave viewers breathless.
"Search for Mt. Sinai: Mountain of Fire" – Explorers Bob Cornuke and Larry Williams take an incredible expedition into the blistering heat of Saudi Arabia to investigate one of the greatest discoveries in history – the real Mt. Sinai, the holy mountain on which Moses received the Ten Commandments. Along the way, they discover over a dozen significant remnants still remaining, including where the children of Israel crossed the Red Sea, the altar of th golden calf, and the split rock of Horeb. They also challenge viewers to seek out the treasures of the Word of God and make the most important discovery of all – a personal relationship with Jesus Christ.
Dove Review
This is a fantastic collection of interesting information regarding three important artifacts from the Bible. Travel with Bob Cornuke as he searches the world for Mt. Sinai, Noah's Ark and the Ark of the Covenant. Each DVD takes the viewer on his adventure as he searches through the Bible, maps, and talks to experts along with natives to help him as he looks for these great treasures. You will be amazed as he travels Saudi Arabia, Turkey, Ethiopia and faces the challenges of unrest in countries such as Iran and Iraq. Every viewer will be astounded at his discoveries.
This is a very informative and educational DVD set for everyone. This collection is happily awarded the Dove "Family-Approved" Seal.
Info
Company:
Bridgestone Multimedia Group