Professor Crunch and the Daffies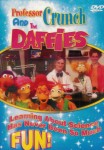 Synopsis
Join Professor Crunch, Chloe Urchin and the Daffies on this high-energy musical adventure into the fascinating world of science. When the Professor's experiment goes haywire –ZAP!– the Daffies are brought to our world from another dimension. Can the Professor get them back home? Our Earth is a mysterious, new place for them. As the Daffies learn about our world, so will you.
Dove Review
" Professor Crunch" the scientist and his assistant, Chloe, along with Urchin, an animal puppet, take you on a science adventure. It is a pleasant combination of laughter, music and educational information about science and all it entails.
In this episode we "Meet the Daffies", who are puppets from Daffie Land. They were a result of a scientific experiment that went a little wacky and were brought to earth from another dimension. The group of two girls and two boys are always asking important questions when it comes to science. They always want to know: Why, How, What and Where. "What's Up In The Sky?" In this episode: Professor Crunch doesn't know where the Daffies are from. These cute puppets are afraid of the brightness from the sun but they have great imaginations and love to sing, dance, and learn. So the Professor teaches them about the stars, the moon, the earth and the solar system not only by talking to them but also through songs. What a fun and fantastic way for kids to be educated in science. We award this DVD our Dove "Family-Approved " Seal.