The Narrow Road
DVD Release:
March 1, 2009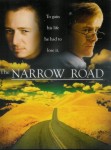 Synopsis
John Holland's life is falling apart. After losing his mother to cancer at a young age, he is unable to come to terms with the tragic loss. As a result, John's closest relationships have declined and his life continues to spiral out of control, until a tragic accident leaves him on the brink of death. In his unconscious state, John revisits the events in his life that ultimately led him down the path of regrettable choices, In his perilous journey, John is forced to decide on his destiny- to hang onto his past and perish, or to ultimately choose the path towards redemption.
"The Narrow Road" is a moving story about emotional joys and pains of growing up, accepting the past, and embracing life's second chances.
Dove Review
Writer and director Michael Chance has done an incredible job with this independent film. The colors are vibrant in this movie, the cinematography crisp, and the story is interesting as well as tightly directed. Young John Holland's life is going down the drain. He is unable to come to terms with his mother's death from cancer when he was a young child, even now in the present as the years have passed. He didn't realize that his father Rich wasn't a bad father as he remembered. Rich had a heavy burden on him working hard to pay for his wife's medical bills, in addition to dealing with his own grief and raising a young child as a widower.
When John has an automobile accident, he begins to remember some things from the past and is given illumination as to how things truly happened. He must ultimately deal with his own anger as it is his only hope to reconcile with his father, who still loves him. The film deals with the struggles of keeping one's faith, forgiveness, and letting go of the past. This film was obviously made with a lot of care and we are pleased to award our Dove "Family-Approved" Seal to the movie.
Info
Company:
Legacy Films and Media
Industry Rating:
Not Rated
Reviewer:
Edwin Carpenter