Miss March
Theatrical Release:
March 13, 2009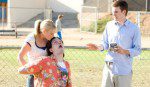 Synopsis
"Miss March" tells the story of a young man who awakens from a four-year coma to hear that his once virginal high-school sweetheart has since become a centerfold in one of the world's most famous men's magazines. He and his sex-crazed best friend decide to take a cross- country road trip in order to crash a party at the magazine's legendary mansion headquarters and win back the girl.
Dove Review
Effective January 1st, 2009, The Dove Foundation Review Team has ceased reviewing all NC-17 rated movies and certain extraordinarily explicit R-rated films. This decision was reached due to the fact that Dove reviewers are parents or grandparents with conservative values. As such, we feel that we can no longer expose these dedicated and caring people to movies that contain distasteful and appalling stories that are focused on graphic horror and violence, and/or gratuitous depictions of explicit sex and nudity.
"Miss March" is considered to be such a film. Our report is therefore limited to the business information (title, rating, distributor, producer, director, actors, etc), synopsis, and the content chart.
Content Description
Please see our content chart above.
Info
Writer:
Zach Cregger and Trevor Moore
Director:
Zach Cregger and Trevor Moore
Reviewer:
Edwin L. Carpenter