Angel Wars: The Messengers
DVD Release:
March 1, 2009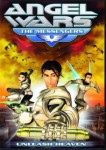 Synopsis
In the beginning, there were angels, the Maker's holy creations, and they ruled the kingdom above. Eventually, humans emerged on Earth, and the angels were tasked to protect and guide them. But after a schism formed in the ranks of Heaven, the great Angel Wars broke out, angel versus angel for the fate of humanity. Now tasked with protecting humans and fighting the forces of darkness, Michael and his mech-clad clan of warriors called the Guardian Force do what is needed to stay the cause.
In a city of darkness, they are the light. Kira and Eli are the newest members of the Guardian Force, a group of angel warriors sworn to protect the world from the powers of evil. Not yet full Guardians, the young duo still has a lot to learn, but when darkness descends over the city, the time for training is over. Faced with the responsibility of delivering hope to a lost city, they must learn to work together to drive back the soldiers of darkness and grow into the warriors they are destined to become.
Dove Review
This is a wonderful animated adventure about the Guardian Angels watching over the humans on Earth and doing "The Maker's" work. Packed with great action that will be enjoyed by everyone, it is filled with encouraging lessons and morals. This is an adventure about listening and working together.
Angel Wars may not be the true portrayal of the Guardian Angels as written in the Bible, but it is a fantastic wholesome adventure that entertains with values. Dove awards "Angel Wars: The Messengers" the Dove "Family-Approved" Seal.