The One Lamb (Theatrical)
Theatrical Release:
March 30, 2009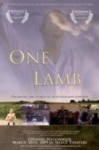 Synopsis
The One Lamb, an emotionally gripping film produced by University City United Methodist Church over the past three years, is set to hit select cities nationwide on March 30, 2009. A small church in Charlotte, North Carolina, very far removed from the scene in Hollywood, will release the feature film with a remarkably wide spread launch, opening in 100 theaters in 34 states across the U.S..
An inspirational story of hope and redemption, The One Lamb captures the elements of life transforming films such as Chariots of Fire and the recent Fireproof, telling the poignant story of the rise and fall of a promising campaign manager/lawyer named Jackson Price, played by Bryan Forrest, who is battling cancer and competes in the New York City Marathon as part of a personal spiritual rebirth. Although Price is facing an enormous battle against the cancer rapidly destroying his life, his biggest struggle is the fight against the mistakes of his past. Price is befriended by a cranky, retired pastor who helps find redemption for his past failures and hope for his future.
John W. Price, Alyson Lowe, Anna Holmes and Bryan Forrest , The One Lamb highlights a crew of dedicated volunteers from different races, backgrounds and walks of life joined together to give their talents and their hearts to this motion picture experience that is sure to inspire. Mike Minter, 10-year NFL superstar Safety for the 2003 Superbowl runner-up Carolina Panthers, makes a featured appearance in The One Lamb as a spirited pastor. The film also features a powerhouse performance by John W. Price (Pastor Earl) that is sure to garner high critical praise. In addition, Bill Ebel, who was the on-set, contributing editor for the blockbuster release FIREPROOF, has done a masterful job editing this powerful film.
Dove Review
This is a story of transformation. A married man named Jack Price (Bryan Forrest) is a powerful campaign manager who has led a popular politician toward a seat in the Senate. In fact, Jack even makes the cover of Time Magazine. Then he has an affair and after his best friend squeals on him his job, marriage and seemingly his entire life goes down the drain.
The news gets worse when he learns he has cancer and has to undergo immediate treatment. When he meets a man known as Pastor Earl, he begins to consider his spiritual life for the first time in many years. Can he find the reconciliation he needs before he passes on? This story carries a powerful gospel message, but unfortunately it also carries with it a lot of strong language. In one scene a wife curses her own husband with a "Da_n you" and Dove does not award our Seal to a film that contains this curse. We wish the film had been softer with the language. If so, it would have been awarded our Seal. As it is, it is a near miss.
Info
Company:
University City UMC Production
Reviewer:
Edwin L. Carpenter