12 Rounds
Theatrical Release:
March 27, 2009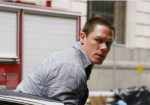 Synopsis
Detective Danny Fisher (John Cena) is about to have the worst day of his life. A nearly untraceable internationally-known terrorist named Miles Jackson (Aidan Gillen) has kidnapped his girlfriend Molly Porter (Ashley Scott) and forced him into "12 Rounds" of dangerous games carefully plotted throughout the streets of New Orleans. Danny struggles to keep focus while the obvious ticking clocks and crude consequences that accompany each one of these "rounds" do their best to derail him from rescuing the love of his life before it's too late.
Dove Review
The bad guy in this movie, Miles, wants revenge on the good guy, Danny Jackson, on the anniversary of their last meeting in which Miles' girlfriend was accidentally killed. But is that the real reason behind this scheme Miles has set in motion? This is one of those movies that makes you sit on the edge of the seat. From beginning to end it is filled with chase scenes, explosions, and people in danger. The film has the viewer wondering what will happen next. Of course, good reigns over evil in the end but we won't spoil it and tell you how.
This movie is definitely filled with action scenes and thankfully nothing is too graphic. But like most of these type movies, the language is over the top. So that being said, this movie is not family-approved and cannot receive our Dove Seal. Please consult the content description below for specific details.