The Haunting in Connecticut
Theatrical Release:
March 27, 2009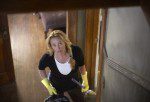 Synopsis
Based on a chilling true story, Lionsgate's "The Haunting in Connecticut" charts one family's terrifying, real-life encounter with the dark forces of the supernatural. When the Campbell family moves to upstate Connecticut, they soon learn that their charming Victorian home has a disturbing history: not only was the house a transformed funeral parlor where inconceivable acts occurred, but the owner's clairvoyant son Jonah served as a demonic messenger, providing a gateway for spiritual entities to crossover.
Now unspeakable terror awaits, when Jonah, the boy who communicated with the powerful dark forces of the supernatural, returns to unleash a new kind of horror on the innocent and unsuspecting family.
Dove Review
The good versus the evil! Spirits from long ago are not at rest due to the way in which they died. When a young man named Matt, who is battling cancer, is moved into what has the reputation of being a haunted house, the battle for Matt and his family truly begins. Matt (Kyle Gallner) is moved there because his parents decide to rent the house since Matt's trips for his treatments are long and tiresome. His mother Sara (Virginia Madsen) does her best to keep a positive, unflagging attitude, as does Matt's father.
However, later on when Matt begins acting strangely and the medical bills pile up, Matt's father Peter (Martin Donovan) loses his temper and beats his guitar to pieces and he also turns back on his pledge to remain sober. He comes home quite inebriated one evening and begins smashing lights in the house and yelling angrily at his family. The family does find some help in the form of a minister who Matt meets at the hospital. He is ill too but prays with the family and he begins to unravel the mystery surrounding the haunting of the house.
The acting is great, especially that of Madsen and Gallner as the mother and son, and Elias Koteas as the minister. Unfortunately, due to the frightening supernatural scenes and the strong language, in addition to some bloody scenes, Dove is unable to award our Dove "Family-Approved" Seal to this movie as a family-friendly picture. It was nice to hear the 23rd Psalm quoted and to see the family pray together.
Info
Writer:
Adam Simon and Tim Metcalfe
Reviewer:
Edwin L. Carpenter