AutoBGood: In the Land of Odds – The Classics Vol. 3
DVD Release:
April 1, 2009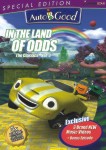 Synopsis
Chapter 1 – The Land of Odds (Dependability) – Johnny thinks being dependable means being 'boring'; however, when the Professor's invention takes Johnny to the Land of Odds, his opinion quickly changes.
Chapter 2 – Growing Responsible (Responsibility) – Cali just loves shopping! She needs a job so she can shop more and comes up with a plan to "let" her friends be responsible for her task instead.
Chapter 3 – Sunny Side Up (Goodwill) – One small thought, three friendships. Can one small thought be enough to hold these relationships together?
Bonus Episode – Stage Fright (Consideration)
Dove Review
Here are four episodes from the fantastic AutoBGood series which will help teach young and old alike valuable lessons for life. Join the lovable little cars as they learn how to be dependable and responsible or how someone's word or thoughts can change how things may turn out. This animated series will be enjoyed by the entire family. With encouraging songs to help install the important valves that God has for us, we award this DVD the Dove "Family-Approved" Seal for all ages.
Info
Company:
Rising Star Studios
Industry Rating:
Not Rated