Destination Fame
Theatrical Release:
June 9, 2009
DVD Release:
June 9, 2009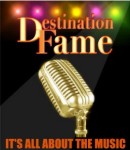 Synopsis
Six high school graduates learn about the value of friendship, the inconsistencies of life and what it takes to make it in the music industry.Chris is the power behind friends and partners (Gabby, Joey, Lisa, Wizzy, Crystal) and they've been submitting their music to various labels but to no avail.
Since Chris's father passed away, he and his Mom, Connie, are trying their best to make ends meet. She's over her head in debt and Chris does not want his friends to know of his desperate situation.
One Day when Chris and his friends are performing at a local mall concert they are approached by a record label, but their only interest is Chris. They offer him an upfront cash signing deal. Chris, aware of Mom's financial problems, accepts. His friends feel betrayed and they regroup and push their own label with the help of Paulie, who moves into the neighborhood.
Chris learns that working with a big record label isn't everything he thought it would be. They begin to change his music and appearance. But even more than that, he misses his friends and girlfriend Gabby.
After Joey (his best friend) learns from Paulie that Chris only took the deal to help his Mom get out of her heavy financial debt, they all reunite and give an electrifying concert. Paulie has a surprise for them as he brings their music icon on stage to join them for the grand finale. The film is a classic story where the underdogs go through trials and tribulations, finally seeing their dreams become a reality….surrounded by wall to wall music.
Official Website: http://www.DestinationFameTheMovie.com
Dove Review
"Destination Fame" is a musical drama featuring a group of high school graduates who come together to create a new record label so they can showcase their talent. Just as things begin to move forward, one of the friends is offered a recording contract with a record company and leaves his friends to pursue his own solo career. Faced with the realization that the big record company wants to control his look, sound and even his lyrics, Chris goes back to his friends and assists them with their project.
There are many great lessons in this film such as how "fame" is not as important as staying true to your own dreams. Friendship, family, jealousy, forgiveness and the need for second chances are all major themes of this film as well. We are pleased to award our Dove "Family-Approved" Seal to this musical escapade. Due to the mildly revealing outfits worn by the teens and some minor innuendo, we recommend it for ages 12 and over.
Content Description
Sex: "Bump and Grind" dance moves - not overtly sexual but suggestive; some mild innuendo; Boyfriend/Girlfriend kiss; some of the music has mildly suggestive lyrics.Language: OMG-1
Info
Director:
Paul DeAngelo and Ted A. Bohus