Rachel and the Lion (Illustrated)
Book Release:
March 1, 2009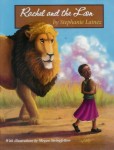 Synopsis
Rachel is a 7 year-old girl who lives in a small town in Africa. Malaria has hit her town and Rachel, who is sick, never stops fighting for her own joy. She discovers love in the wealth of her family as a tragedy hits her household. Her special friendship with The Lion helps her cope and find her inner strength.
The Lion helps Rachel understand grief, conflict and truth. The Lion not only helps her during her loss but challenges her to be personally responsible for her actions. He lovingly corrects her and opens her eyes to a deeper level of courage, honesty and abundance.
This book is a great tool for parents in creating a platform in which to discuss life issues such as sickness, death, honesty and respect.
Dove Review
It is hard sometimes to discuss certain topics with children such as hard times, illness or death. This wonderful heartwarming book will help children to understand some of life's more difficult events and their relationship with God during those times. With lessons of honesty, sharing, and faith this book will be passed down for generations to come. We are pleased to award "Rachel and the Lion" our Dove "Family-Approved" Seal for all ages.
Info
Company:
My Story House Books.Com
Industry Rating:
Juvenile
Starring:
Illustrations by: Megan Stringfellow