Last Train from Gun Hill
Theatrical Release:
November 3, 1959
DVD Release:
November 9, 2004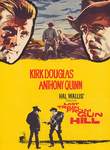 Synopsis
After his wife is killed, U.S. Marshal Matt Morgan (Kirk Douglas) is so filled with rage and resentment that he's ready to put his life on the line to exact revenge. But in doing so he'll also be throwing away a lifelong friendship, as the murderer is the son of his old friend, rancher Craig Belden (Anthony Quinn). Understandably, Belden's determined to protect his child, even if it means he'll have to shoot the one man he's relied on for years.
Dove Review
Although this film deals with a marshal (Kirk Douglas) who is determined to bring in the man who raped and murdered his Indian wife, it is really a well made picture with strong performances from Kirk Douglas and Anthony Quinn. Quinn plays Craig Belden, the father of the man who murdered the marshal's wife. Although he doesn't agree with what his son did, Belden's son Rick is the only family he has left and he is determined to stand up to his former best friend, Marshal Matt Morgan, even if he has to shoot him.
Kirk Douglas plays the marshal as a strong and silent type and it is his determination to stick to the law and do what is right which makes for a compelling story. Belden has the town in his pocket but though he's outnumbered, the marshal refuses to give up his prisoner, as he is determined to take him with him on the nine o'clock train out of Gun Hill. The ending should leave the viewer feeling satisfied. The theme of doing what is right no matter what is strongly featured in this movie. It isn't a film for very young viewers, but many viewers twelve and older will enjoy the story which nicely combines drama and action. We gladly award the film our Dove "Family-Approved" Seal.
Info
Company:
Paramount Home Entertainment
Writer:
Les Crutchfield (story) and James Poe (screenplay)
Industry Rating:
Not Rated
Reviewer:
Edwin L. Carpenter