Building A Difference: The Page-Bailie Bunch
DVD Release:
March 3, 2009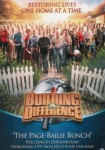 Synopsis
Building A Difference is making a difference worldwide by showing and sharing raw, dramatic, life-changing stories you won't see elsewhere. Building A Difference is a new TV series that brings to the screen the incredible works of people, groups and ministries around the world who–together–are literally building a difference in the lives of people in desperate need. Each story is unique, personal and moving. And Building A Difference cameras put you there as lives are changed through the selfless efforts of others who give from their resources, their time and their hearts. These are stories of encouragement. We hope they will inspire others to do the same in their communities and around the world for desperate neighbors in need.
Sometimes Builders Care comes to the rescue of those who are also helping rescue others, like Melisa Page-Bailie. Melisa is an outstanding individual with a beautiful soul, because she has a very special love for fostering children in troubled situations. She has personally fostered over two hundred children since becoming a foster mother and has even adopted several of them. However, with the serious challenges of a one hundred year old home in desperate need of repair, their lives were about to change with the help of Builders Care.
Dove Review
This is a wonderful inspiring documentary about a group of fantastic people and volunteers who help to make a change in one family's life. This story will take you not only to the reconstruction of this family's home but also give you the in-depth look at the family's amazing story that leads up to this act of kindness. As you watch the courage of this family as they overcome the challenges of life, you will be excited to see the outcome of the newly designed home the builders have created for them. Celebrate in the joyous homecoming, when tears of appreciation are shown and shared by the audience.
This is truly an amazing story of encouragement and it will encourage others to help those in need. Dove awards "Building A Difference: The Page-Bailie Bunch" the Dove "Family Approved" Seal for all ages.
Info
Company:
DeepLight Entertainment
Industry Rating:
Not Rated