Bibleman Genesis: Lead Us Not Into Temptation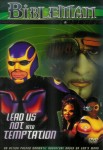 Synopsis
In this Bibleman Adventure, the infamous Luxor Spandroth uses the first name in villainous software, "Hypno Hack by Micro Harsh" to tempt Bibleman's trusted friend Cypher and young school girl Riley Watson into going back to their old lifestyles of unkindness. Has Luxor Spandroth's hypnotic web site snached young Riley? Will Cypher be tempted into hanging out with an old but dangerous friend? This action-packed adventure takes you from an amazing battle in the forest to a final bout in Luxor's lair! With help from Bibleman, Biblegirl, and the Word of God, they find out that God will give us a way to escape temptation (1st Corinthians 10:13).
Dove Review
In this episode a young girl named Riley, a new Christian convert, is mocked by some former schoolmates who try to influence her to forget following God and to revert to her old life. Bibleman and his team do all they can to influence her to keep moving ahead in her faith. When one of the Bibleman team members begins to hang out with his old friends, Bibleman realizes that something needs to be done, and quickly.
This is another episode of the exciting "Bibleman" series and we are pleased to award our Dove Seal to this quality programming. Bibleman always shows up to encourage the discouraged by sharing the promises of the Bible.
Info
Industry Rating:
Not Rated
Reviewer:
Edwin L. Carpenter