Bibleman Genesis: Conquering the Wrath of Rage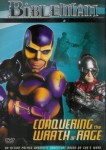 Synopsis
El Furioso has crafted a new weapon: fury dust that enrages everyone it touches. When he targets a middle-schooler, Bibleman and Cypher come to the rescue. But when the dust lands on Bibleman, even our hero loses his cool. Can he trust God to lead him to victory in Conquering the Wrath of Rage?
Dove Review
Bibleman has to fight himself to some degree in this episode. His temper is getting the better of him and he tries to keep it under control. He soon learns that there is an evil force behind his sudden flare-ups. Yet as always there are moments of humorous relief thrown in, such as when Bibleman says, "A man in spandex is no laughing matter!"
Ludicrous is one of the villains who returns for this episode. A few dilemmas must be faced in this episode in addition to Bibleman's temper tantrums. Cypher is sure he's ready to be Bibleman's sidekick although Bibleman himself is not yet sure. And a young boy named Jordan sulks because of a tragedy in his family and he can't understand why God allowed it. As always, the humor keeps it from getting too heavy, such as a moment when Bibleman says, "There's more to do, otherwise the episode would end right here."
Some kids almost get into a fight but Bibleman uses his light saber and scripture and sets things right by episode's end. We are most pleased to award this DVD our Dove "Family-Approved" Seal.
Info
Industry Rating:
Not Rated
Reviewer:
Edwin L. Carpenter