Son Of The Pink Panther
Theatrical Release:
August 27, 1993
DVD Release:
January 31, 2006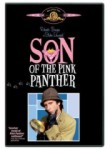 Synopsis
This is the eighth entry in the Pink Panther series. It is nearly 30 years since Inspector Jacques Clouseau managed to get Maria Gambrelli off from a murder charge (events of "A Shot In The Dark"). Maria has gone on and moved to a seaside town. Princess Yasmin of Lugash has come to town for a holiday with her father. She is kidnapped and because of the strong ties between France and Lugash, Chief Inspector Dreyfus is called in to find her. He is hampered by the local police officer Jacques and is amazed when he finds that Jacques is Maria's son. He is terrified even though he and Maria are falling in love that Jacques is Clouseau's son and Jacques is showing Clouseau-ish behaviour. Both Jacques and Dreyfus set out to find the missing Princess…
Dove Review
Robert Benigni is amusing as Inspector Jacques Clouseau's son in this film. He is a bumbling detective, as good old Dad was. He gets his gloved hands caught in some van doors and the van carries him away. He even pronounces the word "bump" in the same way that his father did. His version of pronouncing Lord Byron is "Lurd Byron." This film is Dove approved for ages twelve and up, with the warning that there is some sexual innuendo in the film. Although not seen on the screen, it is implied that two separate couples have sex before marriage. So families will know, there is a reference to "Praise Allah," in the beginning of the film. The language is mildly crude but the story includes several funny moments including Clouseau Jr. riding his bike into the water when the brakes fail.
Info
Company:
MGM/UA Home Video
Writer:
Maurice Richlin and Blake Edwards
Reviewer:
Edwin L. Carpenter