Hermie and Friends: Skeeter and the Mystery of the Lost Mosquito Treasure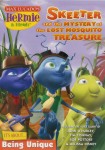 Synopsis
Skeeter can't do anything right, but his older brother can do no wrong. Which will find the treasure?
Skeeter's "perfect" brother Sir Sinclair M. Skeeto, the world famous adventurer, comes to the garden with a mysterious treasure map left by their father. All the garden gang are in awe of Sinclair, and fawn all over him. But could it really be up to wrong-way Skeeter and his crooked stinger to solve the mystery of the treasurer's location?
The lesson comes from Psalms 139: 13-14 and is about each of us being specially designed by God.
Dove Review
Another wonderful story from the garden of Max Lucado's Hermie the Caterpillar and friends this story takes you on an adventure with Hermie and his Friend Skeeter. Skeeter is a little different from most mosquitoes; his stinger's bent and crooked. But his brother Sinclair is the world traveler and can go or do everything right all the time.
This story will help everyone to understand that it is okay to be different and that we all are unique in our own way, that is how God has made us. Not everyone can do everything right and we need someone else's talents to help. As in all the Max Lucado's Hermie and friends stories, this is a fantastic tale that is entertaining and inspiring. Dove awards this episode about being unique as Dove "Family Approved."